I just got in a bunch of new books, and I can't decide which one I like the most! Each one is more brilliant than the last!
This one
Oops Pounce Quick Run! An Alphabet Caper
by Mike Twohy was a sleeper, I saw the cover and thought "cute." Then I read it. What a great book! It's an alphabet book and a story. One word per page, about a dog and a mouse. But the story is so good, that you don't notice it is an alphabet book.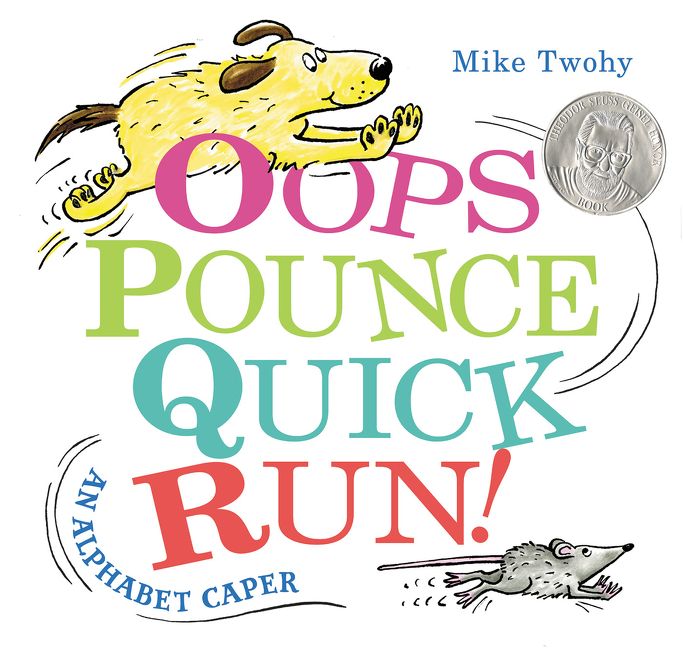 Even better, I told my young listeners that this was more than just a story. I asked them to tell me if they noticed anything... and a few of them did notice about halfway through that it was an alphabet book. Don't miss this one.
Another book that got me saying "HOW did the author think of this?" was One Day, The End, Short, Very Short, Shorter-Than-Ever Stories by Rebecca Kai Dotlich, illustrated by Fred Koehler.
Each story takes place over two two-page spreads, The first begins "One day I lost my dog, then I found him." But the illustrations! They are amazing and fun and joyful. This is a great book to read together with a child.
Some kids, maybe most kids, love books where there is a lot going on in the illustrations. I remember endless hours absorbed in the illustrations of a Richard Scarry book when I was small half a century ago. So many kids have been to airports that the Airport Book by Lisa Brown can help kids make sense of these busy, fascinating places. Reading the book is like taking a trip to the world of places and people in an airport. We see people, families and stuffed animals going through security, airport vehicles, lots of travelers, and hundreds and hundreds of things to look at. It's another really fun book to read together with a child.